One of the really neat features of Facebook is how it allows for a daily trip down "Memory Lane," with its "On This Day" feature. This week has been another reminder of the road our family traveled eight years ago, when my dad, Allen Davis unexpectedly passed away. As I post this, it was exactly eight years ago at this time that my dad drew his last earthly breath.
On Friday of last week, I read updates from my Facebook Timeline in December 2008. I had posted on December 25, 2008:

Our family, normally would have tried to go to Terre Haute, Indiana to see Joanna's parents, but because of some school activities that were crowding into our vacation time, we decided to spend Christmas with my parents in Clemson, SC. We had a wonderful time together.
My father had recently joined Facebook and had posted some photos from Christmas Day in a Facebook Album. You can view that complete album on Facebook by following this link: http://bit.ly/2j0eKAN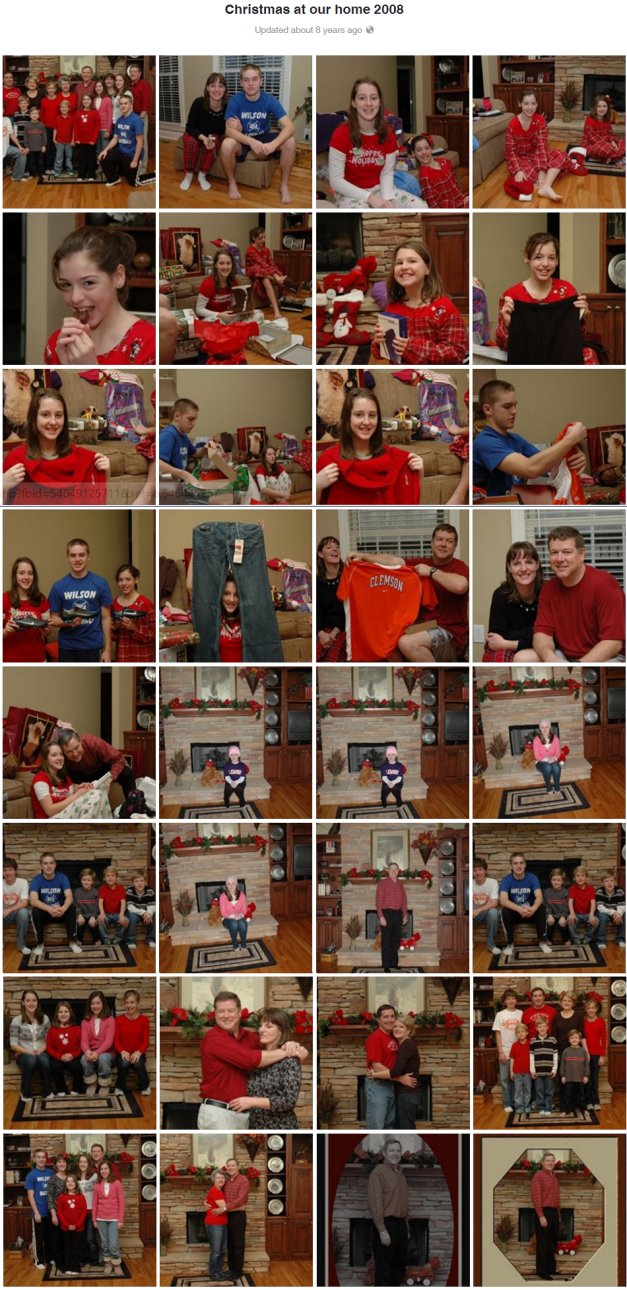 We had a great time together with my parents and my sister Julie's family on Thursday, which was Christmas Day. Dad had a fun time taking selfies with his granddaughters and making silly faces. He was especially proud of the photo below which we took of the entire family. He set everything up and then used the timer on the camera to catch everyone smiling at the same time.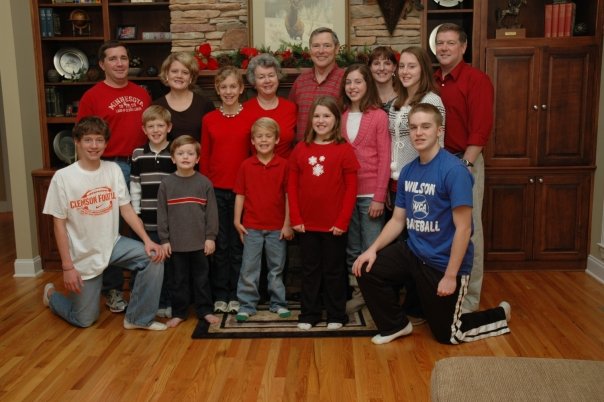 We really had a great time for the few days that we were there. We went out to eat and went shopping together several times in Anderson. My dad was excited to give us a nice Canon DSLR camera with a couple of lenses, a nice case, and filters.
On Saturday, our family had to travel back home to Wilson, NC, where we were living at the time. Little did we know when we said good-bye on Saturday that this was the last Christmas we would spend together.
On Sunday morning, I received a call from my sister who asked me, "Have you heard about Daddy?" I didn't know what she was talking about. She said that he had awakened with a terrible headache and that he was being admitted to the hospital for some tests. He ended up staying overnight at the hospital. The tests had not shown any problems so on Monday they sent him home. I talked to him on Sunday and on Monday.
Anyone who knew my dad knows how much he loved Clemson football. For many years, he had attended all of the home games. Many times our phone conversations were about Clemson football or the "terrible" referees.  It was Monday, December 29, and ESPN Classic was showing the Clemson vs. Ohio State game from 1978, the last game for Ohio State's legendary head coach Woody Hayes who lost his cool at the end of the game and struck Clemson's Charlie Bauman. I called dad to tell him the game was on and he turned to it as we did a little play by play together. I could tell he didn't feel well so I told him I loved him and hung up the phone. Again, I had no idea this was the last time I would hear my dad's voice.
In a providential way, God was at work also in providing help for me in the days that would follow. Earlier that day, Caleb and I had to go to Raleigh to pick up the telephoto lens for the camera that dad had bought us for Christmas. While there, we stopped for lunch. I checked Facebook and saw that my friend Ben Everson had the months of January and February open and was looking for meetings. Since our youth pastor had left, I needed some help at church so I invited him to join us for a couple of months. He said that he and his wife would pray about it and get back with me.
The next few posts on my Facebook timeline from Tuesday tell the story of the events that would unfold over the next four days.
At 8:56 a.m. I posted

As a pastor, I always enjoyed taking my children visiting with me. I would try to make it a special time for them as they were an encouragement to our church people. On this day, I took my two youngest daughters Abby and Hannah with me to make some visits and then we were going to go eat and then to the mall where they could use their gift cards that they had gotten for Christmas.
At 11:19 a.m. I posted

Just 26 minutes later at 11:45 a.m. I posted

Julie called and asked if I had heard about dad. I had called mom earlier to check on him, but she said he was still sleeping. She said that he had a terrible headache. Later on that morning, she couldn't get him to wake. They ended up taking him to AnMed Hospital in Anderson. We left the restaurant and I dropped the girls off at the mall. I called Mom. As I prayed for my father who was five hours away, I felt completely helpless. I could hear the sirens in the background as I asked my mom if Dad was o.k. She said that she didn't know.
I went inside the mall to check on the girls. They were in Bath & Body looking for stuff to buy with their gift cards. Julie's husband, Patrick called me and let me know the gravity of the situation. I called Joanna and told her what all was happening and told her to pack the van, that we were heading back to South Carolina. I told her to pack church clothes. It looked like we may be heading to a funeral.
I called my friend Ben Everson to see if he was still interested in helping out at Tabernacle Baptist for a couple of months. He said that he and his wife Amanda had prayed about it and they were excited to come serve. I asked him if he could be here on Sunday that I would probably be attending a funeral. What a blessing it was to see God's providential grace on display in providing not only a great preacher and tremendous musician, but a good friend to encourage our church and this preacher.
It was exactly one hour later at 12:45 p.m. that I posted

Needless to say, the ride to Anderson, SC, from Wilson, NC, was longer than usual. I received an update from Patrick so I posted at 2:15 p.m.

When we arrived at the hospital, Joanna and I were able to see dad. My next post was at 8:54 p.m.

The next couple of days would be excruciating as we were waiting on God, knowing that He was in full control. There was a struggle between our faith in a faithful and good God and our human emotions that didn't want to let dad go.
I would go on to post several updates. I shared the message below to his email list of friends.
This is from Jeff Davis. Allen Davis is my father. In times past I have sat at his computer and sent out emails concerning my dad's health. Without a miracle this will be one of the last emails because dad will soon be with his Savior. Our family was able to spend Christmas with Dad and Mom last week. We had a wonderful time and Dad did exceptionally well. We were even able to take pictures of the entire family including Julie's family and just about everyone was smiling. On Saturday, my family returned to Wilson, NC. On Sunday morning I received a call from my sister that they had to take my dad to the E.R. He was suffering from a terrible headache. He had a CT scan on Sunday, but because of his pace maker/defibrillator he was not able to have an MRI. They kept him overnight and performed another CT scan on Monday morning. The tests looked to be fine so he was allowed to go home. He continued to have a bad headache. When I called Mom this morning at about 10:00 a.m. neither one of them had slept much. He was still in a lot of pain. Somewhere around lunch time he became unresponsive and Mom called EMS. They transported him to Anderson Medical in downtown Anderson and determined that he had an aneurysm rupture in his head. This afternoon they were able to drill and place a shunt in order to relieve the pressure. He is now in a deep coma. The doctors have been very good about communicating with the family. They are not very optimistic. He has very limited brain activity. There is still a glimmer of hope, but it is very small. We are all a little shocked. Most of you know the trouble he has had in the past with his heart and diabetes. We would have never anticipated this. When I hugged dad goodbye on Saturday, I told him I loved him and held him a little bit tighter. I'm not sure if I was the one instigating the longer embrace or him. I honestly walked to our vehicle with a lump in my throat wondering if we had just celebrated our last Christmas together on this earth. We honestly don't know what the night holds for us or the next few weeks. As I said, the prognosis is not good. If he has improved brain function over the next couple of days he may be able to have some kind of recovery. If not, then obviously the family may have some tough decisions. We all covet your prayers.
I posted the following on my blog:
Today has been a long day for all of us. Dad is in a deep coma with very little brain activity. There is only a small glimmer of hope. None of the doctors are optimistic. We have been able to see him several times. As I am writing he is still bleeding from the aneurysm he suffered yesterday. We have been comforted by the many phone calls and emails. This is a tough time for our entire family. Last week we had a wonderful time together for Christmas. Dad was in good health and was thrilled to have his entire family with him. You never know what a day may bring forth. When I began my day yesterday, I was taking my two youngest daughters to visit the hospital in Wilson to be a blessing to some of our church people. We are now the ones in need of prayer and encouragement. Thank you to everyone who has expressed concern. I will try to keep you updated.
On January 2, 2009, we had to make the decision to remove life-support from my dad. Though we didn't want to let dad go, the decision was easy. We knew, "To be absent from the body is to be present with the Lord."
My next blog post read:
My Dad is Now in Heaven
Thank you for praying for our family during this difficult time. My father, Allen Davis, passed away today around 1:20 p.m. It was a very peaceful death. I'm sure God was glorified by the testimony of the different family members throughout the day today. At different times throughout the day, we prayed, we read Scripture, we sang, and we even sat silent. The Lord used the day to prepare each one of us for our loss. I'm very sad, but do not grieve at all for my father. Dad is now with His Savior. We have not made any arrangements yet, but we are hoping for a Monday evening funeral. I will let everyone know as soon as possible. I'm proud of how Mom is handling this. We were given a great privilege in knowing a great man. Continue to pray for us.
The next few days would be an amazing display of God's grace. I posted this note:
Thanks to everyone for their continued prayers. My mom commented on how she knows that many people are praying for us and she can feel that support. My eleven year old daughter (Abby) crawled up on my lap last night and said, "Daddy, do you feel God's grace too?" I said "Yes, sweetie." She said, "I've never felt it like this before."
We are still feeling that grace today!
It is hard to believe it has been eight years since my dad went to be with the Lord. I miss my dad very much. I have been a little melancholy all day. I'm trying to be thankful though, thankful to have had such a tremendous father and such a godly influence in my life. I have posted a video tribute to my dad below. I believe he would have loved the beautiful arrangement of Dixie that accompanies the video. It is a beautiful rendition by Roz Bowie.
Here is my Dad's Obituary:
Allen Hadley Davis
(July 31, 1944 – January 2, 2009)

Allen Hadley Davis, 64, of 102 Sugar Maple Court, and husband of Elaine Smith Davis, went home to be with his Saviour, Jesus Christ, on Friday, January 2, 2009 at AnMed Health Medical Center in Anderson.
Born in Pascagoula, MS, he was the son of the late Batson Hadley and Edris Bolt Davis. He was the co-owner of Ward Smith Chevrolet-Buick. Mr. Davis was a charter member of University Baptist Church, the Sons of Confederate Veterans, Camp 45, and a devoted member of IPTAY and an avid Clemson sports fan.
Surviving in addition to his wife are a son, Pastor Jeffrey Allen Davis and wife Joanna of Wilson, NC; a daughter, Julie Allison Davis Miller and husband Pastor Patrick Miller of Anderson; two sisters, Carolyn Swanner of West Monroe, LA, Debra Davis of Mobile, AL; and nine grandchildren, Caleb, Bethany, Parker, Mary-Paige, Abigail, Reese, Hannah, Gabriel, and Miles.
Graveside services will be 3 PM Monday at Oconee Memorial Park.
A memorial service will be 7 PM Monday at University Baptist Church with Pastors Jeffrey Davis, Patrick Miller, and Dave Hine officiating.
The family will receive friends Sunday afternoon from 3 PM until 5 PM at Duckett-Robinson Funeral home.
Memorials may be made to University Baptist Church; PO Box 1643; Clemson, SC 29633.
The family is at the home.
Condolences may be expressed online at www.robinsonfuneralhomes.com or in person at Duckett-Robinson Funeral Home, Central-Clemson Commons.
Precious Memories – Tribute to my father, Allen Davis